Prof. Liu Wei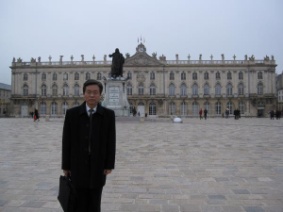 Professor of School of Energy and Power Engineering at HUST. Professor Liu is committed to the fundamental research and engineering application in the field of engineering thermophysics. His research interests mainly include heat and mass transfer in porous media, electronics cooling, heat transfer enhancement and residual heat utilization. In recent years, Professor Liu has undertook more than 20 national projects, including NSFC, 973 Project, National Defense Preliminary Research Projects and so on. Besides of an author or a co-author of 5 books, he has published more than 170 papers in various prestigious journals. Furthermore, Professor Liu is a council member of Chinese Society of Engineering Thermophysics.
"Development of Biporous Media and Its Application in Loop Heat Pipe"
Abstract:
Heat transfer and flow in porous media widely appears in the areas of natural phenomenon, biological phenomenon and engineering field. As a typical industrial application of porous media, capillary loops (including capillary pumped loop and loop heat pipe) are a high efficient and passive heat transfer device, which transfers heat by two-phase cycle of the working fluid. It is very suitable for widely using in the fields of satellite and spacecraft thermal control and electronics cooling with high heat flux.
In the past few years, our research group have devoted much work to the performance study of capillary pumped loop (CPL) and loop heat pipe (LHP). We develop the first CPL prototype with porous media in both the evaporator and the condenser. The CPL prototype is validated to notably improve the startup characteristics and the stability of loop. In order to further increase the performance of flow and heat transfer in the porous media in the evaporator, we independently develop the sintering process of biporous wick. The large pore and the small pore distributed in the biporous wick can both keep a large capillary force and decrease the flow resistance of working fluid. Meanwhile, the biporous wick possesses high porosity and high permeability. When the biporous wick is used in the LHP system, the loop shows an excellent performance. For the stainless-steel-ammonia LHP with flat evaporator, the loop shows very fast and smooth response to heat load and operates stably without obvious temperature oscillation in the whole tested heat load range. The maximum heat load that the loop can transport reaches 130W (heat flux corresponding to 12.8W/cm2) with the heater wall temperature is lower than 60oC.In order to utilize heat leak from side wall conduction and improve the startupperformance of LHP, a novel LHP with two primary wicks is presented. Experimental results show that the novel LHP with two primary wicks can start upsuccessfully at low heat load of 10W.
In order to solve the drawbacks of startup failure, limited heat transport distance andoperational temperature oscillation due to the miniaturization of flat loop heat pipes, we propose a novel two-phase loop called pump-assisted capillary phase change loop. The loop is validated to possess the advantages of strong heat transfercapability, low startup heat load, stable operation and high reliability. For the loop using ammonia as working fluid, the maximum heat load the loop can transfer is 250W and thecorresponding heat flux is 24.6W/cm2, when the heater wall temperature is limited in 60°C.
The research objective in capillary loops is expected to provide a highly efficient and reliable solution for cooling high heat flux electronic devices.