Prof.Li-Zhi Zhang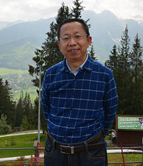 Li-Zhi Zhang is a Professor at South China University of Technology (Guangzhou, China). He has worked with energy recovery and heat and mass transfer topics and advanced humidity control technologies since 1992.
" Modeling of dynamic deposition and filtration processes of airborne particles by a single fiber with a coupled lattice Boltzmann and discrete element method"
Airborne particulate matter (PM) pollution has caused many deleterious effectson atmospheric environment and people's health. Fiberfiltrationhas been regarded as one of the efficient and economical way for removing particles from gas streams. To reveal the dynamic capture processes of airborne particlesby fibrous filters, and their effects on filtration performance, a lattice Boltzmann modeling approach coupled with discrete element method (LB-DEM), is used for simulations of airborne particle deposition on an individual fiber. Themutual influences between the dynamic particle transport/deposition and the fluid flow are considered. The model well predicts the formation of the dendrites and the dynamic progression of the deposit under different capture mechanisms. The adhesion parameteris proved to have a dominant effect on the dynamic deposition processes and filtration performance. Increases in adhesion parameter lead to looser particle dendrites, faster deposition rates and better filtration efficiencies. The smallerparticles tend to have larger pressure drops and more compact dendrite structures at the same deposition mass.