Home



| | |
| --- | --- |
| | Submission of one page abstract (online submission at Abstract Guide) |
| MARCH 30, 2017 | Notification of abstract acceptance |
| APRIL 30, 2017 | Camera-Ready Manuscript (online submission at Manuscript Guide) |
| MAY 10, 2017 | Notification of paper acceptance |
| may 17,2017 | Final version due |
| jULY 06-09,2017 | Conference |



Hotel Name.Hyatt Regency Tianjin East

Add. No. 126 Weiguo Road, Hedong, 300161 Tianjin

During the trip, our staff will provide help if you have problems.

Aiqiang Chen, 13652177159, chenaiqiang@tjcu.edu.cn.

Zhili Sun, 13920590050, sunzhli@tjcu.edu.cn.


The objective of the 6th International Conference on Applications of Porous Media 2017, ICAPM2017, is to bring together various researchers from academia, industry and research laboratories and to present the state-of-the-art in all research fields on porous media, such as toxic waste disposal, fuel cells, filtration, biomechanics, oil reservoirs, hydrology, etc.
All subjects related to applications of porous media are welcome, which includes but not limited to: Biotechnology, Environmental, Oil and Gas, Geophysical, Heat Exchangers, Multiphase, Reactors, Double Diffusion, Natural, Forced and Mixed Convection and Bioconvection, Combustion, Radiation, Drying, Food Industry, etc.
The 6th International Conference on Applications of Porous Media 2017 is part of a series of meetings starting in DJERBA (Tunisia, 2002) and then EVORA (Portugal, 2004), MARRAKECH (Morocco, 2006),Cluj-ISTANBUL (Turkey, 2011) and Napoca(Romania,2013).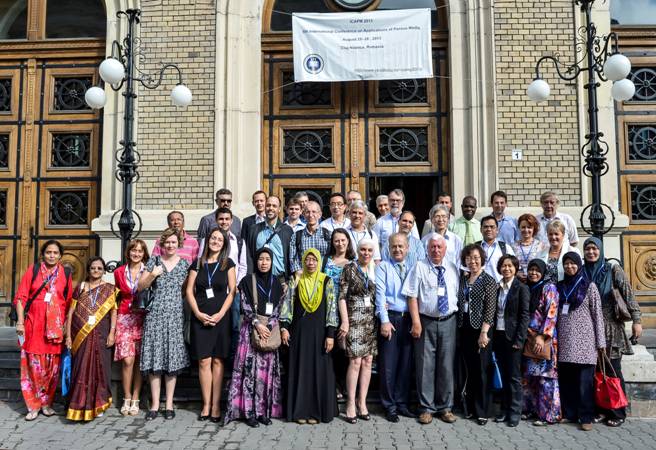 Tianjin is one of the four municipalities in China. Its name means 'the place where the emperor crossed the river'. In recent years Tianjin has received more and more attention from both tourists at home and abroad due to its numerous travel resources and rich history.
It is no exaggeration to say that Tianjin bears a splendid historical background. However, it was desecrated by foreign invaders long before the foundation of People's Republic of China. Tianjin was shared by nine countries: Italy, Germany, France, Russia, Great Britain, Austria, Japan and Belgium. This marked an extremely hard period for Tianjin and her people because those imperialist countries left permanent marks in her body, most notable of which were thousands of villas. Today those villas provide an exotic flavor to Tianjin, enhancing the beauty of the entire city.
Blessed with variety of tourist attractions, Tianjin is a good place to explore. The top ten attractions in Tianjin, known as Jinmen Shijing, are Gu Wenhua Jie, Dagu Emplacement, Huangyaguan Great Wall, Dule Temple, Haihe River, Water Park, Panshan Mountain, Hotel Street and Food Street, Tianjin TV & Radio Tower and Zhonghuan Cailian. There are also many natural scenes of beauty as well as great historical events.
Getting in and out of the city is convenient because of the well-planned transportation system. If you want to come by water, there are a series of international and domestic sea routes in the port of Tianjin, which is the biggest man-made port in China. If you plan to arrive by air, Tianjin Binhai International Airport offers excellent service. Planes have routes that reach most of the major cities in China and also cities in Europe and America. Of course, arriving in Tianjin by land is another option, while trains or long-distance buses are yet another alternative.